Springfield Silvertongue
Wikisimpsons - The Simpsons Wiki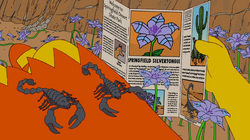 The Springfield Silvertongue is a flower found in the Springfield Desert State Park.
History
[
edit
]
When on a school trip to the Desert State Park with the Springfield Elementary School, Lisa encountered two scorpions. When she backed away from them she fell into a patch of Springfield Silvertongue flowers. Lisa was then surprised to find that the scorpions weren't hurting her. She then realized that proximity to the Springfield Silvertongue flowers was causing them to become docile. Lisa took the scorpions and some of the flowers home with her to research them for a science project.
Lisa turned the Springfield Silvertongue flowers into a spray, which she used on the scorpions to calm them down. When Homer found out that the Silvertongue could be used to calm animals down, he decided to try it on Grampa, who was always cranky. The drug worked and Grampa became nicer to everyone. However, Lisa didn't like the idea of making people artificially happy and flushed the remains of the Silvertongue extract down the toilet.
When Walter Hotenhoffer overheard Homer and Grampa talking about the Silvertongue extract in Moe's Tavern, he asked if he could get a drop of it from Grampa's skin. Hotenhoffer then synthesized this into the drug MusBeNys, which got spread out to the elderly people of Springfield. They later found that an unfortunate side effect of the Silvertongue and drug was that it lubricated the eye sockets of the user until their eyes popped out of their heads.[1]
Non-canon
[
edit
]
| | |
| --- | --- |
| | The contents of this article or section are considered to be non-canon and therefore may not have actually happened or existed. |
Silvertongue is one of the crops that can be harvested at Cletus's Farm.[2]
Appearances
[
edit
]
References
[
edit
]