MusBeNys
Wikisimpsons - The Simpsons Wiki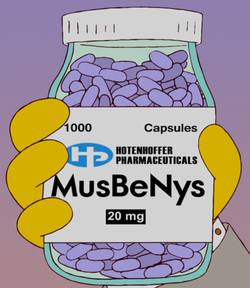 MusBeNys is a drug made by Hotenhoffer Pharmaceuticals.
History
[
edit
]
After Grampa had been exposed to a drug that Lisa created out of Springfield Silvertongue, he became happier and more mellow. However, Lisa flushed the drug down the toilet due to not wanting to make people artificially happy. When Homer and Grampa were talking about it in Moe's Tavern, Walter Hotenhoffer overheard them and asked to take a sample of the drug from Grampa's skin. He then had his scientists synthesize the compounds found in the drop. They then tested each compound on Grampa until they found the correct one. This compound was then made into MusBeNys.
For the trial, Walter Hotenhoffer said that only Grampa should take the drug. However, Bart stole it and sold it to people around Springfield to give to the elderly people in their lives. Eventually, a side effect of the drug was revealed. The drug causes the eye sockets to lubricate to the point where the eyeballs popped out. When this came to light, Walter Hotenhoffer decided that he had to destroy the drug. However, a mob of old people gathered outside of the factory, wanting more of the drug. Grampa then convinced them that they didn't need it and the drug was no longer produced.
Appearances
[
edit
]