Scrabble
Wikisimpsons - The Simpsons Wiki
For the real life merchandise, see The Simpsons Scrabble.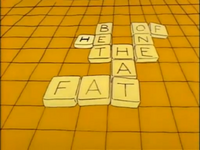 Scrabble is a 2-4 player game in which players make words out of their letters to fit them onto the rack.
History
[
edit
]
The Simpson family badly played Scrabble, coming up with the words "the", "hat", "one", "of" (twice), "bet", "fat", "he", "be", "my", "do", "id", and "kwyjibo".[1]
Bart and Greta Wolfcastle once played Scrabble, spelling out the words "romance", "boyfriend", "love", "adore", "desire", "kiss", "us", and "oblvious".[2]
During the Scrabble segment in "Bart the Genius" the board changes slightly nearly every go.
Appearances
[
edit
]
References
[
edit
]
External links
[
edit
]