Rapmaster 2000
Wikisimpsons - The Simpsons Wiki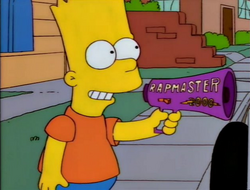 The
Rapmaster 2000
is a toy megaphone that plays a rap music beat when someone speaks into it.
Bart Simpson
owns one, which
Homer
borrowed from him.
History
[
edit
]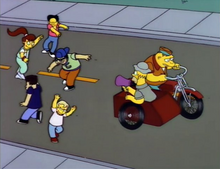 In response to a rash of burglaries in
Springfield
, Homer had formed a citizens' vigilante group, and he and
Barney
were about to ride through the neighborhood in a motorcycle and sidecar to tell people to stay off the streets. Homer wanted a megaphone to make it easier to address the neighborhood, and borrowed Bart's—cutting Bart off when Bart tried to tell him it wasn't just
a
megaphone, but a Rapmaster 2000.
Barney drove down the street while Homer rode in the sidecar and spoke into the Rapmaster 2000, telling people to return to their homes. However, the megaphone had the opposite effect: When Homer spoke, the megaphone played a rap music beat under his voice, which attracted several kids who heard the music and thought that Hammer was in the neighborhood. Instead of returning to their homes, the kids ran into the street and followed the motorcycle, jamming out behind it as they followed it down the street.
Appearances
[
edit
]
See also
[
edit
]