Groovy Grove Natural Farm
Wikisimpsons - The Simpsons Wiki
Groovy Grove Natural Farm
Location Information

Groovy Grove Natural Farm (also referred to as Groovy Grove for short) was the site of a commune in the 1960s; later, of an organic juice business.
Commune
[
edit
]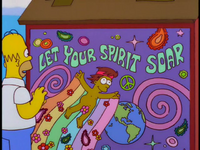 In the 60s, Groovy Grove was the site of a hippies' commune. The hippies generally hung out enjoying a laid-back existence, while growing their own organic vegetables on the farm for food. Mona Simpson lived here for several years after she left Abe. During that time, she painted murals of Homer, one of which led to his finally discovering what his middle name was. Mona was also in a menage a trois relationship with fellow hippies Seth and Munchie.
Juice Business
[
edit
]
Seth and Munchie stayed on at Groovy Grove after the radical days of the 60s passed. They founded Groovy Grove Juice Corporation, a business where they produced their own organic vegetable juice, called Seth & Munchie's Garden Blast. They continued growing organic vegetables on the farm to use for the juice, and set up the processing and bottling equipment in the barn. The juice was popular in Springfield and the business was very successful, until a visit from Homer Simpson. Homer accidentally destroyed a batch of juice, which caused Seth and Munchie to miss a big shipment and receive some unfavorable coverage on Channel 6 News. In an attempt to make up for it, Homer remade the batch of juice and delivered it all over town. However, he inadvertently spiked the replacement batch with peyote. When people all over town got high from the spiked juice, the Springfield Police got wind of the situation and raided Groovy Grove. It's possible that the business was shut down after the police raid.
Known Residents
[
edit
]
Appearances
[
edit
]
See also
[
edit
]
---