Corey Hotline
Wikisimpsons - The Simpsons Wiki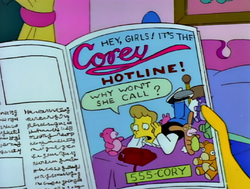 The Corey Hotline is a hotline aimed at young girls. Girls are able to call the number to listen to Corey Masterson speaking. The hotline costs $4.95 per minute.
History
[
edit
]
Lisa became addicted to the Corey Hotline and raised a large telephone bill calling the number. After Marge found out about this, Lisa promised to stop charging the family with the calls. However, Lisa started to call the hotline from other places, including the hospital, Retirement Castle, and even the school. When Principal Skinner caught Lisa calling the number at school, he and Marge told Lisa that she had to stop. Marge told Lisa that if she could make it until midnight without calling the hotline, she would have beaten her addiction. Lisa struggled with not calling the number and almost broke down, using the phone. However, the phone was only telling her the time and Marge was proud of Lisa for beating her addiction.
Description
[
edit
]
The Corey Hotline has Corey Masterson talking to whoever is on the line, without the customer able to answer back. Things Corey talks about are relatively mundane, including giving words that rhyme with Corey and reading what's in the newspaper.
Appearances
[
edit
]