User talk:50.182.44.114
Wikisimpsons - The Simpsons Wiki







---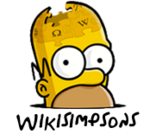 Hi, welcome to Wikisimpsons! Thanks for your edits to the Kill Gil, Volumes I & II article.
We really appreciate your contributions here, and would love to give you credit! So Log in with a user name, or register one if you don't have one yet. That way we know who is doing the great things we see.
Here's a wiki tip for you -- you can sign your name on talk/discussion pages by typing ~~~~ which automatically adds your signature and the date.
Here are a few pages to help out new editors such as most likely yourself:
Feel free to leave a message on my talk page if I can help with anything!
---
This is the discussion page for an anonymous user who has not created an account yet, or who does not use it. We therefore have to use the numerical IP address to identify him/her. Such an IP address can be shared by several users. If you are an anonymous user and feel that irrelevant comments have been directed at you, please create an account or log in to avoid future confusion with other anonymous users.
---