Springfield Excitement
Wikisimpsons - The Simpsons Wiki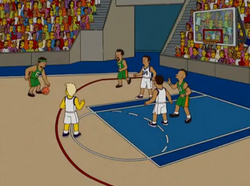 Springfield Excitement, previously the Springfield Celtics and Austin Celtics, is Mr. Burns' basketball team that played in his new stadium.
History
[
edit
]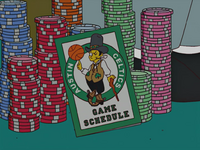 The Springfield Excitement was previously the Austin Celtics and was owned by the Rich Texan. During a poker game at Billionaire Camp, Burns bet Smithers and the Texan waged the Celtics. Burns proved victorious. He renamed the team into the Springfield Excitement. Burns then turns the terrible team into a more entertainment team than actual basketball. The fans were unimpressed, and in an attempt to bring fans in, Mr. Burns built a new stadium. The new stadium was, however, built on a bee reserve and on opening night, the bees take over the stadium after Homer released them to please Lisa. This puts Burns at a financial loss, and the fate of the team unknown.
Known players
[
edit
]
Muk Mu - "The Human North Pole"
Behind the Laughter
[
edit
]
The teams' old name, the Austin Celtics, is a reference to the real-life team, the Boston Celtics.
Appearances
[
edit
]
---