Old Springfield Anthem
Wikisimpsons - The Simpsons Wiki
"Old Springfield Anthem"
Song Information
"Old Springfield Anthem" (or "Only Springfield") is the old anthem for Springfield. It was brought to the town by Hans Moleman (when he was the Mayor), but, in fact, a salesman who was selling it to half of America sold it to Moleman. The citizens of Springfield 30 years later discovered the truth about it. They then proposed to change their anthem.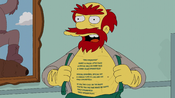 There's a special little place
A special smile on every face
A town called Springfield!
Special buildings, special sky
A unique place to live and die
Only Springfield!
Of all the cities on the mappy
You're the one that makes me happy!
Only Springfield!
Only Springfield!!!
Appearances
[
edit
]
---