Me Wantee!
Wikisimpsons - The Simpsons Wiki
Me Wantee!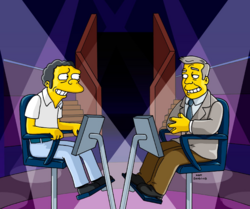 Moe on Me Wantee!

TV Show Information

Me Wantee! is a game-show which offers lots of cash prizes to their contestants hosted by Virgil.
History
[
edit
]
Moe once went to the show. He was asked a question for $500,000 and, because it was a nuclear-related question, Moe chose Homer as a friend call since he works at the nuclear power plant, however, Lisa gave Moe the answer. He was asked to go for the prize of $1,000,000, but Moe decided to stay with the half a million dollars, so the gold wheelbarrow containing the money was burned. The show stole ratings from The Krusty the Clown Show.
Behind the Laughter
[
edit
]
Me Wantee! is an obvious parody of the show Who Wants to Be a Millionaire?
Appearances
[
edit
]
---