It's a Krusty Kinda Kristmas!
Wikisimpsons - The Simpsons Wiki
It's a Krusty Kinda Kristmas!
TV Show Information

It's a Krusty Kinda Kristmas! is a Christmas special hosted by Krusty the Clown. It is sponsored by ILG ("selling your bodies chemicals when you die") and Li'l Sweetheart Cupcakes (a subsidiary of ILG).
Synopsis
[
edit
]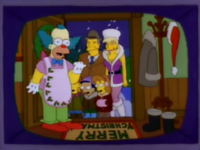 Krusty walks into a living room holding a cooked turkey and welcomes the viewer to his home. However, the Channel 6 News desk can be seen through a window with a raised blind, meaning that Krusty is in fact in a television studio. Krusty laughs nervously, then closes the blind.
Krusty says he hears some carollers, and opens a door to reveal three children, "respected private citizen" Tom Landry and "South American sensation" Xoxchitla. However, Krusty can not pronounce Xoxchitla's name, and groans, then walks off camera.
The announcer then says that after the commercial there will be a video Christmas card from Tupac Shakur.
Appearances
[
edit
]