Frinkcoin
Wikisimpsons - The Simpsons Wiki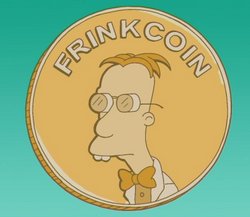 Frinkcoin was a cryptocurrency created by Professor Frink.
History
[
edit
]
Professor Frink made Frinkcoin because he wanted to become a famous scientist. After creating Frinkcoin, Frink became the richest person in Springfield, surpassing Mr. Burns. To become the richest man in Springfield again, Burns had a team of people try and create his own cryptocurrency, Burns Coin. When that failed, the scientists came up with an equation that would render all cryptocurrency worthless. They left it in the Springfield Town Square until Frink solved it himself, as his money wasn't bringing him happiness. After he solved the equation, Frinkcoin became worthless.
Behind the Laughter
[
edit
]
Frinkcoin is a parody of Bitcoin.
Appearances
[
edit
]
---