Duff Beer
Wikisimpsons - The Simpsons Wiki
This page is in serious need of repairs/improvements.



Please improve the article, or discuss the issue on the talk page.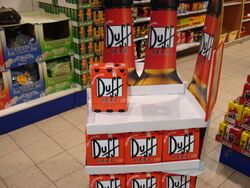 Duff Beer is a type of beer featured in The Simpsons that has spawned a number of real world versions. Duff beer has been produced by a number of breweries, but it has never been done with the show's permission. Producers of the show have previously considered making real Duff Beer. In 2007, to promote The Simpsons Movie, a number of products inspired by items in the show were released, including Buzz Cola and Krusty-O's. The producers considered making Duff Beer, but decided against it due to The Simpsons Movie being rated PG-13, and the promoters wanted to have "good, responsible fun."[1] However, a Duff Energy Drink was released in place of the Duff Beer.[2] When the Simpsons-themed area was opened on the Universal Orlando Resort started they sell an officially Duff Beer.
Real Duff beers
[
edit
]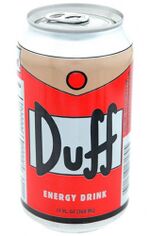 In the late 1990s, the Lion Nathan brewery in Australia produced an unrelated beer called "Duff Beer". 20th Century Fox brought legal action against the company. The product was ordered to be pulled off of store shelves and destroyed, becoming a collectors item in the process.
Daleside Brewery in England makes a Duff Beer - Duff being Gaelic for dark, this is a 5% abv dark beer. In 2007 a Duff Energy Drink was made which looked just like the beer on The Simpsons. In 2005 in Guadalajara Jalisco Mexico a young business man opened his own Duff Beer.
The officially Duff Beer that is only sold at the Universal Orlando Resort is produced exclusively for the theme park and including regular Duff, Duff Dry and Duff Lite. The producer is the Florida Beer Company.[3]
Duff scam
[
edit
]
As reported on the television show Inside Edition, there was a scam in 2004 where an Australian woman was sold a Duff Beer similar to the one on The Simpsons (in which the can had the same logo as the can on the show). She went to court to sue the person who sold it to her but the case was thrown out by the judge a few days later.
References
[
edit
]