Vizir detergent
Wikisimpsons - The Simpsons Wiki
This article is about the list of commercials involving Vizir detergent. For the product, see Vizir (product).
WARNING!


This page may be unsuitable for some readers due to uncensored content.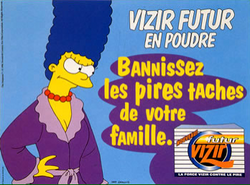 Vizir detergent is a French brand of laundry detergent. Two The Simpsons advertisements aired only in France and uses the voice actors who dub the show into French. The Simpson family also participated in other marketing for the product in 1996.
List of commercials
[
edit
]
| Name (unofficial) | Image | Description |
| --- | --- | --- |
| Supermarket | | Marge buys a package of the laundry detergent Vizir and lets Bart, Lisa and Homer take off their clothes in the living room. Later, when their clothes are drying in the garden, Bart, Lisa and Homer are naked and when Bart causes the clothes to end up on the ground, Homer and Lisa run away, leaving Bart standing alone in the garden. |
| Homer Stains | | Marge gets in the mail a packet with Vizir Wash remover. Marge decides to test it on Homer's dirty shirt, and it gets a clear result. Homer is happy that his shirt is finally clean, but Bart teases him, saying that his breath stinks. |
See also
[
edit
]