User:UxieLover1994
Wikisimpsons - The Simpsons Wiki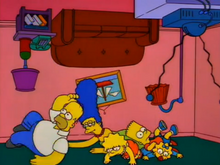 I'm a 20-year-old Australian female. My real name is Amy, but I prefer to be called Uxie. I am sometimes active here. I am most active at the Kingdom Hearts Wiki, as well as Ratchetpedia, the latter of whom I am an admin at.
I enjoy the classic episodes, and I don't enjoy the newer episodes. I've been active at the preveous two sites, and I am experienced. If you want to talk with me, you can. I will help out with writing episode plots and pointing out new trivia.
I'm trying to create Sony Computer Independent Wiki Alliance (SCIWA), which is to help independent wikis get the spotlight they deserve. Like SEIWA and WikiSimpsons, it's anti-Wikia. If you guys are interested in helping SCIWA come to life, click here (note: this link will take you to Ratchetpedia).
---