Template:Featured Article
Wikisimpsons - The Simpsons Wiki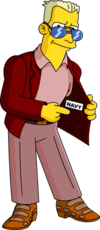 Lieutenant L.T. Smash is a Navy recruiter and the founder of Party Posse.
When Bart was running away from an angry mob, L.T. Smash rescued him in his car and took him back to Bart's house. Smash revealed to the Simpson family that he was forming a boy band, the Party Posse, and he wanted Bart in for his bad boy attitude. Bart hastily agreed and eventually Marge allowed it, signing the contract. Smash then took Bart to Classified Records to meet his fellow band members; Milhouse, Nelson and Ralph.
Smash served as the Party Posse's manager, watching over them when they recorded songs or put on live shows. After Lisa found out that there was subliminal messaging in the Party Posse's songs to get people to join the US Navy, Lisa went to L.T. Smash to tell him about it. However, she found out that Smash was in with Navy and he was behind it. To show the power he had as a Navy recruiter, Smash yelled at Lenny and Carl, telling them to join the Navy, to which they both did. Smash then told Lisa that she couldn't leave as she knew too much, only to find that Lisa had already left...
Read more of this article | More featured articles | Vote for a featured article
---