Template:Featured Article
Wikisimpsons - The Simpsons Wiki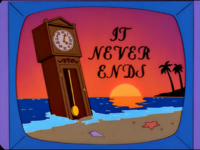 It Never Ends is a soap opera starring Gabriella DeFarge as Gabriella St. Farge and Allegra Hamilton as Sister Bernadette and Roxy Monoxide. Moe Szyslak played Dr. Tad Winslow briefly. Other characters in the series include Contessa, Cleo, Clive Dancer, Professor Gallaway and Gallaway's half-sister. Helen Morehouse served as an executive producer for the show.
It Never Ends is a live soap opera on TV, and is recorded in Springfield. Moe, in his youth, sought the role of Dr. Tad Winslow. However, he was rejected as he was too ugly. Years later, when Moe got plastic surgery to make him handsome, he went to get revenge on Helen Morehouse for rejecting him. When Moe arrived, Morehouse was arguing with Tad Winslow's actor because he wanted a pay rise. After seeing Moe's new face, Morehouse made Moe the new Tad Winslow, firing his original actor.
Moe took to the role and quickly became a hit with the ladies. One day, future plotlines were delivered to Moe and he signed for them. After reading through the plotlines, Moe found out that Tad Winslow was to be killed off...
Read more of this article | More featured articles | Vote for a featured article
---