Template:Featured Article
Wikisimpsons - The Simpsons Wiki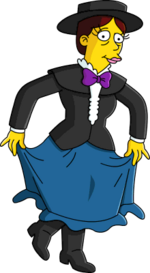 Shary Bobbins was the Simpson family's nanny.
When Marge started losing her hair due to stress, the Simpson family decided to hire a nanny to help look after the kids. After interviewing several candidates, all of whom Homer chased away, Shary Bobbins arrived, floating down with her umbrella. The family decided that they liked her so they decided to hire her. Shary immediately got to work with the kids, getting them to help tidy Bart's room, albeit in a half-assed way, through a song and dance ("Cut Every Corner"). This helped her to bond with the kids.
Shary Bobbins then took the kids to the park. There, they passed Ned Flanders, Snake Jailbird and Nelson Muntz, who all knew Shary. They then met up with Groundskeeper Willie who revealed that he had previously been engaged to Shary Bobbins back in Scotland. Then she got her eyesight back and called off the engagement. Shary and the kids then started flying kites when Mr. Burns came along. Shary let Burns fly a kite and he got struck by lightning, causing his heart to restart. Meanwhile, Marge was praising Shary Bobbins as the house was spotless and the kids were occupied...
Read more of this article | More featured articles | Vote for a featured article
---