Template:Featured Article
Wikisimpsons - The Simpsons Wiki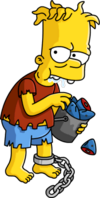 Hugo Simpson is Bart's conjoined twin. Shortly after their birth, they were separated by Dr. Hibbert.
Hugo and Bart were born as conjoined twins. Dr. Hibbert performed a soul-smear test and found that the left twin was evil, which was confirmed by the left twin attacking the other. Dr. Hibbert then surgically separated the twins and told them to keep the evil twin, Hugo, locked in the attic. Meanwhile, Bart lived a normal life. Once a week, Homer and Marge gave Hugo a bucket of fish heads to eat.
Years later, Bart and Lisa heard noises coming from the attic. When they questioned their parents about it, Homer and Marge denied anything was wrong. Homer then took a bucket of fish heads up to the attic, which piqued their curiosity. When Homer and Marge were out the house next, Bart, Lisa, and Maggie went into the attic to find out what was up there. Hugo managed to break out of his chains, which scared the kids out of the attic. Hugo then escaped and seemingly left the house. When Homer and Marge returned home, they finally told Bart and Lisa all about Hugo. They then called Dr. Hibbert and went out to search for Hugo, whilst Bart stayed home to record the baseball game...
Read more of this article | More featured articles | Vote for a featured article