Template:Featured Article
Wikisimpsons - The Simpsons Wiki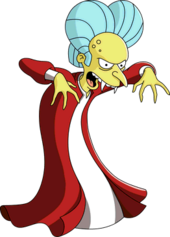 Count Burns was the head-vampire who resides in his medieval castle in Pennsylvania.
A news report by Kent Brockman spoke about a local peasant who had been found dead, drained of his blood, and a black cape with "Dracula" written on it. This case had police baffled and they blamed Mummies. After this report, Brockman went on to talk about how Mr. Burns had bought the Springfield Blood Bank. The report then cut to Mr. Burns, who has blood tricking down his mouth. Burns then invited the Simpson family to his country house, which was actually a castle, in Pennsylvania.
Upon entering the castle, Count Burns appeared in a cloud of smoke and welcomed the Simpsons. Lisa asked Homer if he found anything strange about how Burns looked, and Homer said that Burns' hair looked queer, which Burns overheard. The family then sat down to dinner with Count Burns, being given glasses of blood to drink. Lisa spilled her glass over herself and Bart so they had an excuse to go and explore and they found Count Burns' secret vampire room...
Read more of this article | More featured articles | Vote for a featured article
---