Template:Featured Article
Wikisimpsons - The Simpsons Wiki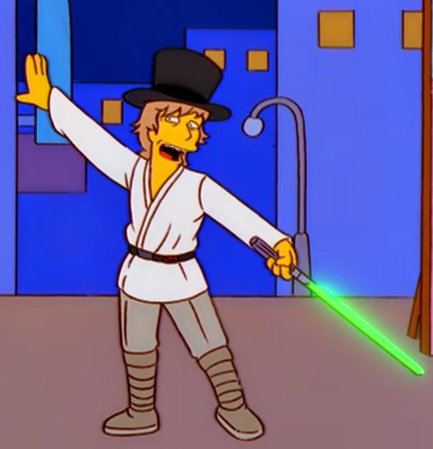 Mark Hamill is an American actor most famous for his role as Luke Skywalker in Star Wars. He spoke at the Springfield Bi-Mon-Sci-Fi-Con and appeared in the Springfield Dinner Theater's production of Guys and Dolls.
Mayor Quimby introduced Hamill to the Sci-Fi Con crowd as "Luke Skywalker himself, Mark Hamill!" to the glee of the assembled nerds. They quickly got annoyed and impatient, however, when Hamill repeatedly made sales pitches for Sprint instead of talking about Star Wars.
When Hamill said they were going to act out a scene from Star Wars and asked for a volunteer to play the part of Obi-Wan Kenobi, a crowd of would-be volunteers rushed the stage and a riot quickly ensued. Hamill apparently hurt his knee, but Homer Simpson came to the rescue, carrying Hamill out of the room and also clearing the way for Mayor Quimby to escape. Hamill was grateful for the rescue, and the experience motivated Homer to become a professional bodyguard. Homer ended up taking on the job of protecting Mayor Quimby when Quimby fired his own bodyguards due to their ineffectiveness during the nerd riot...
Read more of this article | More featured articles | Vote for a featured article
---