Template:Featured Article
Wikisimpsons - The Simpsons Wiki
<!–-INFOLINKS_ON-–>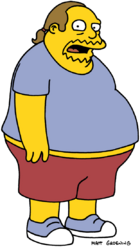 Jeffrey "Jeff" Albertson, better known as Comic Book Guy, is the overweight, geeky proprietor of the comic book store, The Android's Dungeon.
Comic Book Guy is a very obese, socially incompetent, unshaven, cruel man who is perhaps best known for his sarcastic quips. He holds a master's degree in folklore and mythology (he translated The Lord of the Rings into Klingon as part of his thesis). He exhibits geeky behaviour to an extraordinary and deliberately unrealistic degree, and often also makes references to obscure subjects or internet culture. His catchphrase is the declaration,"Worst... (episode)... ever". He states that he is a 45 year-old virgin who lives with his mother. His obesity is referenced in The Simpsons: Hit & Run, where he can be used as a driver. One of his replies is that he might as well pick the player up, since he can't fit into his office chair anymore.
Appropriate to his name, Comic Book Guy is obsessed with comic books, pop culture and science fiction. Comic Book Guy has a bumper sticker that reads "My Other Car Is The Millennium Falcon," given to him by a Harrison Ford lookalike. The license plate on his AMC Gremlin is NCC-1701, the registry number of Star Trek's USS Enterprise.
Comic Book Guy is the owner of The Android's Dungeon, a local comic book store. Many of the comics and toys he sells are of very poor-quality, and often sell for very high prices. His store is his sanctuary, where he holds some level of self-esteem, imperiously lording over pre-teen kids, like Bart Simpson and Milhouse Van Houten, using a heavily sarcastic tone. When he was the target of mockery while trying to return the Ultimate Belt, he sighed, "I must get back to my comic book store, where I dispense the insults rather than absorb them"...
Read more of this article | More featured articles | Vote for a featured article
<!–-INFOLINKS_OFF-–>
---