Sportswardsies
Wikisimpsons - The Simpsons Wiki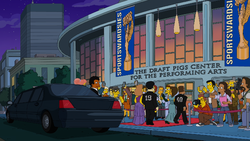 The Sportswardsies is an awards show for sports.
History
[
edit
]
The Sportswardsies were held at The Draft Pigs Center for the Performing Arts. Grayson Mathers invited Marge and Mr. Burns to the show and won an award for Most Inspiring Athlete.
Other awards handed out include: Appalling Owner Lifetime Achievement Award, Best Press Conference Meltdown, Most Valuable MVP, Least Racist Team Name, Coldest Bud Light, Highest Batting Average, Most Tone-Deaf Hall of Fame Speech, Best Free Throw, Thinnest Skin, Fan Favorite Cheating Scandal, Worst Sportswardsy Acceptance Speech, Best Tampering, Most Intentional Walk, Least Lucrative Endorsement, Worst Player, Most Pointless Awards Show, Least Funny State Farm Ad, Most Self-Serving Invocation of Our Lord, Athlete We Want To Give a Slightly Smaller Trophy to Just to See How They'll React, and Least Vaccinated Player.
Appearances
[
edit
]