Simpsons 20Q Online
Wikisimpsons - The Simpsons Wiki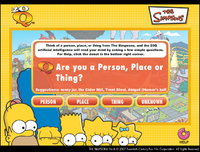 Simpsons 20Q is the online version of the game. Unlike its handheld counterpart, it can be regularly updated with the latest Simpsons appearances. The game is sponsored by Fox. It contains things, people and places from the show. If you come up with something new, it may be added to the system. It asks an optional survey at the beginning.
Features
[
edit
]
As the mouse moves across the screen, Homer's eyes follow it.
If the mouse clicks on Homer's eye, then the eye spins around.
Mistakes
[
edit
]
The system is known to have many mistakes, such as things and places come up under people and vice versa.
The system says this after every round:
The opinions of the 20Q A.I. are its own, and are based on the input of players. 20Q's answers reflect common knowledge. If you feel that 20Q is in error, the only way to correct it is to play again!
See also
[
edit
]
External links
[
edit
]
---