Lazy Man Toilet Seat
Wikisimpsons - The Simpsons Wiki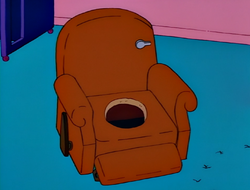 The Lazy Man Toilet Seat is the toilet chair that Homer invented.
History
[
edit
]
Homer conceived of the chair as a way of going to the toilet while watching TV instead of having to go upstairs to use the toilet there, which Homer described as "the hardest thing in the world". While most of the family viewed this invention (and most of Homer's other ones) as "awful", Bart liked the chair. He was eager to try it out ("Gangway! Gotta poop!") when Marge stopped him, saying that she didn't want him going to the bathroom in the living room.
When Homer learned that Thomas Edison's heirs were going to get the money for the Electric Hammer (another one of Homer's inventions), he became so angry that he lost control of his bodily functions. Fortunately, he was sitting on the Lazy Man Toilet Seat at the time.
Appearances
[
edit
]