House Cat Flu
Wikisimpsons - The Simpsons Wiki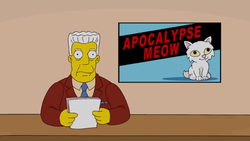 House Cat Flu was a deadly disease deliberately released by television executives.
History
[
edit
]
Concerned about declining revenues, a group of television executives had a meeting to figure out how to make people watch more TV. They came up with the idea of creating a public health scare, so people would be forced to watch their TVs in order to get important information. They decided that an epidemic of "House Cat Flu" would do the job, since it would cause fear among a very large number of people.
The flu bug was first tested on the NBC representative, and it proved to be effective as he died a horrible, painful death. The news of the House Cat Flu was then announced on TV. People became frightened of their cats, and some even took extreme measures such as burning every item their cats had touched. Later, a vaccine was announced, and people stood in long lines in order to get it. Apparently as a means of keeping the panic going (and making people keep watching TV for information), the vaccine was rationed to one child per family. Mr. Burns drives in front of the line instead of waiting the others to finish get their vaccine much to Dr. Hibbert's chargin and he demands 37 doses one for himself one for Mr. Smithers and the rest for his hounds, despite not knowing that the dogs are immune to the diseases. Mr. Burns wastes the rest by driving unto them and spill them on the street.
It is unknown how the House Cat Flu epidemic was resolved, or whether the general public found out what caused it.
Gallery
[
edit
]
Appearances
[
edit
]