Gadget wig
Wikisimpsons - The Simpsons Wiki
| | |
| --- | --- |
| | The contents of this article or section are considered to be non-canon and therefore may not have actually happened or existed. |
The title of this article is conjectural.
Though the topic is found within The Simpsons universe, a proper name is not available.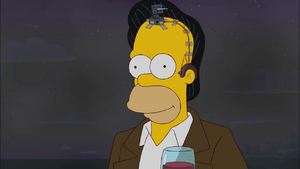 The gadget wig is a wig worn by Nicky Bluepants Altosaxophony.
History
[
edit
]
After Homer was asked to go undercover, he was given the wig as a disguise. It has a fiber optic camera and a microphone in it, with a transmitter on top.
If you say "a", the camera zooms in. "O" makes the camera zoom out. "Forget about it" makes the wig self-destruct.
Appearances
[
edit
]