Count Dracula
Wikisimpsons - The Simpsons Wiki

Count Dracula is a Transylvanian vampire. He is a member of the Springfield Republican Party.
History
[
edit
]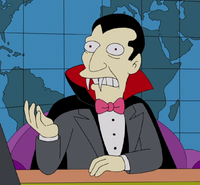 Dracula attended a Republican Party meeting to discuss Ralph Wiggum. He thought the other members were crazy for suggesting Ralph be the Republican candidate as Ralph isn't even allowed to use big boy scissors.[2]
Non-canon
[
edit
]
| | |
| --- | --- |
| | The contents of this article or section are considered to be non-canon and therefore may not have actually happened or existed. |
Dracula was one of the monsters that weren't cool any more. He was seen at a Halloween party dressed as Iron Man. He and the other monsters (Frankenstein's Monster, Amenhotep and the Werewolf) were later seen being forced out of the party by their wives. Homer was then killed for no reason.[3]
Dracula was later revealed to be the father of Edmund. He and Homer travelled to Dracula-la Land to find Edmund and Lisa, who had run away together. Dracula and Edmund attempted to turn Lisa into a vampire, but when Homer intervened, they tried to turn him instead. However, when they bit him, they died from the high cholesterol level in Homer's blood.[1]
Homer said that introducing Bart to a baby brother would be like introducing Frankenstein to Dracula.[4]
The Simpsons: Tapped Out
[
edit
]
This section is transcluded from The Simpsons: Tapped Out characters/Treehouse of Horror XXVIII Adults. To edit it, please edit the transcluded page.

Permanent Jobs
Task
Time
Reward
Requires
Quest with the task
Animated?
Go Skating
10m
26, 7
Simpsons' Skating Rink
Take Paleo to the Next Level
60m
105, 26
Brown House
Live With His Burden
4h
260, 70
Old School Vamp Pt. 1
Overpay for Sex on the Beach
4h
260, 70
Smooches on the Beach
Stay at the Swelldorado
4h
260, 70
Swelldorado
Try to Win at Blackjack
4h
260, 70
$ Casino
Drink and Babysit
4h
260, 70
The Boiled Potato
Attend Parenting Seminars
4h
260, 70
Universal Panacea
Play a Tune
8h
420, 105
Old School Vamp Pt. 2
Dance the Señor Burns
8h
420, 105
Chez Guevara
Accept Donations
12h
600, 150
Bloodmobile
Old School Vamp Pt. 2
But Coffin Flair
24h
1,000, 225
House of Evil or
Kwik-E-Mart
Behind the Laughter
[
edit
]
Appearances
[
edit
]
References
[
edit
]