Primetime Emmy Award for Outstanding Animated Program
Wikisimpsons - The Simpsons Wiki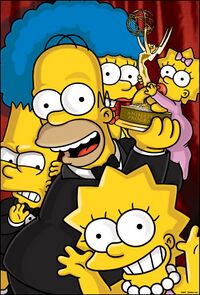 The Primetime Emmy Award for Outstanding Animated Program is an award given out annually during the Primetime Emmy Awards Creative Arts telecast. The Simpsons has been very successful in the category, winning ten times, and receiving ten other nominations. 1993 (Season 4) and 1994 (Season 5) were the only years the show did not receive a nomination. However, this was because the producers instead chose to submit the show in the normal Comedy Series category (Emmy rules specify that a show can not be submitted in both categories). After failing to be nominated, the producers went back to submitting in this category.
Summary
[
edit
]
1. For the 1990 Emmy Awards, "Simpsons Roasting on an Open Fire" was nominated as a separate cartoon because officially it was considered a TV special and not a part of the series. For this list, it is not a part of the overall count of Simpsons emmy nominations.

2. According to DVD commentary, no episodes were nominated in this category in 1993 and 1994 because the producers had instead submitted episodes into the Outstanding Comedy Series category. However, The Simpsons was not nominated in that category, so in 1995 the producers gave up and went back to submitting episodes in the Animation category.
Winners by year
[
edit
]
This article or section is incomplete.


Please improve the article, or discuss the issue on the talk page.

1990 (season 1)
[
edit
]
1991 (season 2)
[
edit
]
1995 (season 6)
[
edit
]
1997 (season 8)
[
edit
]
1998 (season 9)
[
edit
]
2000 (season 11)
[
edit
]
2001 (season 12)
[
edit
]
2003 (season 14)
[
edit
]
2006 (season 17)
[
edit
]
2008 (season 19)
[
edit
]
See also
[
edit
]
External links
[
edit
]
---