NoHomers.net
Wikisimpsons - The Simpsons Wiki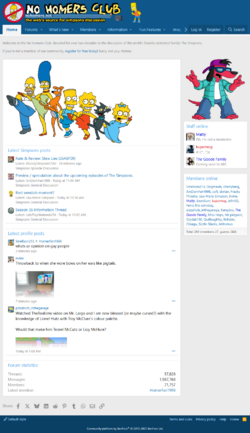 NoHomers.net is a large community fan site for The Simpsons. It was launched on August 27, 2001. Although the site contains many features typical to Simpsons fan sites, including an episode guide and images, its primary draw is the No Homers Club message board, which has over 56,000 members, 90,000 threads, and 3.7 million posts. It was created by Eric Wirtanen (Formerly thecapecoddah and Eric Cartman, now simply known as eric) in 2001, and co-created by Tomacco and Datoupee.
Show involvement
[
edit
]
The website has been mentioned in detail in the episode commentary for "Homer the Great". The producers of The Simpsons do read the website often.
Groening also mentioned the website in the June 2007 issue of Playboy Magazine, stating that NoHomers.net "has the most vocal fans [of The Simpsons]. They often act like spurned lovers if they don't like something".[1] Wirtanen later responded to Groening by saying "Of course we often act like spurned lovers — The Simpsons hasn't satisfied some of us in years. Nevertheless, the show is still more satisfying than our imaginary girlfriends".[2]
The website has hosted question-and-answer sessions with three former executive producers. In early 2002, Al Jean answered questions for fans, and in late 2005, Bill Oakley and Josh Weinstein answered questions in the first of two moderated sessions, coinciding with the release of the seventh season on DVD. They also took questions in January 2006 for the commentaries for the eighth season on DVD, which they would be soon recording. Both have also occasionally contributed to other threads on the forum. In addition, other staff such as show animators Jen Kamerman and Sarge Morton; Bongo Comics writers/artists Bill Morrison, Ian Boothby, Chris Ungar, Gail Simone and Jesse McCann have dropped by the site to interact with users and answer any questions about some of the less-frequently addressed aspects of the show. Jesse McCann also took part in a Q&A session in late 2006 and early 2007.
In the episode, "Sleeping with the Enemy", from the show's sixteenth season, director Lauren MacMullan confirmed that they added a sign in the bowling alley to pay homage to the website [2]. The sign said "N.H.C. Champs! 15 Seasons" and can be seen for about a second.
Name origin
[
edit
]
"Hey Billy! Hey Joey! Come on in. There's plenty of room. Sorry, not you, Homer."
―Boy
"Why not!?"
―Homer
[boy points to sign, "No Homers Club"]
"But you let in Homer Glumplich!"
―Homer
"[pops head out window] Hyuck hyuck!"
―Homer Glumplich
"It says no Homers. We're allowed to have one."
―Boy
"Oh."
―Homer
References
[
edit
]
See also
[
edit
]
External links
[
edit
]