User:Will k
Wikisimpsons - The Simpsons Wiki
Marge: "Watch out for the shock attack!"
Bart: [basketball hits Bart in the face] "Ow!"
Marge: "I told you to watch out.."
Will k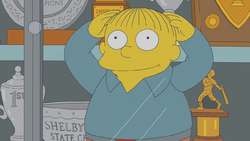 "Ralph, you're also not a trophy."
"Oh-ho!"

User Information
Real name:
Will Kilgour
Place of origin:
Australia
Current location:
Australia
Languages I speak:
English
User rights:
Wiki Hallux
Wiki skills:
Fluent in simple wiki code
Experienced editor

Hi. I'm








. I'm a formerly frequent editor at Wikisimpsons, and self-proclaimed Wiki Hallux. I'm also a member of Project Re-Watch.
Sub-pages
Facts/Things I've Done
Favourites
Episodes
Characters
Guest star

I have 1,492 (ShoutWiki) + 61 (Wikia) + 4,540 edits to Wikisimpsons!