UpscAlien in da House
Wikisimpsons - The Simpsons Wiki
"He's in your face from outer space!"
―The show's tagline
UpscAlien in da House
TV Show Information

UpscAlien in da House is a sitcom which originally aired in the 1990s. Re-runs of the show are shown on Tube Town.
Plot
The show is about a young alien named Trey who is from "the fanciest planet in the Milky Way". Trey stole his father's spaceship, took it for a joyride and flew to Earth, where he saw Lake Erie from orbit and landed there to take a swim in the lake. For reasons unknown, he decided to stay on Earth and moved in with an upper-class family.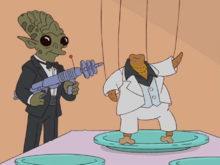 Trey owns a ray gun which is capable of transforming people and objects. In the scenes that were shown, Trey was seen using it to make a cooked turkey get up and dance, and to transform a neighbor man into a girl alien in a prom dress, with whom he then started dancing.
Behind the Laughter
UpscAlien in da House is a parody of The Fresh Prince of Bel-Air.
The show also spoofs ALF, a 1980s sitcom about an alien who crash-lands on Earth and moves in with a human family.
"UpscAlien" is a portmanteau of "upscale" and "alien".
"UpscAlien" might also be a pun on "rapscallion", which is a term for a naughty or roguish person. It would be a fair characterization of Trey, considering that he stole his father's spaceship and uses his ray gun to transform things for his personal amusement.
Appearances
See also
---