Moses
Wikisimpsons - The Simpsons Wiki
For cucumber Moses, see Moses (The Fat and the Furriest).
Moses was, according to the Hebrew Bible, a religious leader, lawgiver, and prophet, to whom the authorship of the Torah is traditionally attributed. In about 1200 B.C. at Mt. Sinai, he gave the people the Ten Commandments from God.
History
The Flanders family once made a short film about the life of Moses and entered it into the Springfield Film Festival.[1]
Moses is seen in Jewish Heaven. He parted a sea that Krusty and his father were lounging on.[2]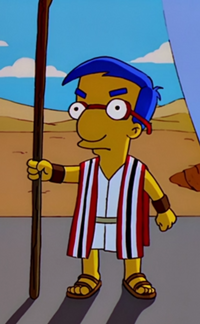 Terry the Time Travelling Terrier once saved him from a well.[3]
Non-canon
| | |
| --- | --- |
| | The contents of this article or section are considered to be non-canon and therefore may not have actually happened or existed. |
In a dream by Lisa, Milhouse portrayed Moses. Lisa convinced Moses to tell the Pharaoh to let his people go, but the Pharaoh refused. Moses and Lisa then tried dropping frogs into the Pharaoh's tent, but he just ate them instead. Lisa and Moses were then thrown into the pyramid's tomb, but escaped after triggering a trap. Moses and Lisa then told the slaves that they were leaving and got to the Red Sea. Moses then had all the slaves flush the toilets by the Red Sea at the same time, causing it to temporarily drain so they could cross it.[4]
The Simpsons: Tapped Out
This section is transcluded from The Simpsons: Tapped Out characters/Clash of Creeds: Christmas Royale. To edit it, please edit the transcluded page.

Permanent Tasks
Task
Time
Reward
Requires
Quest with the task
Animated?
Go Skating
10m
17, 5
Simpsons' Skating Rink
Check the Weather for Frogs
60m
70, 17
Channel 6 or
KBBL Radio or
KJAZZ or
Brown House
Overpay for Sex on the Beach
4h
260, 70
Smooches on the Beach
Stay at the Swelldorado
4h
260, 70
Swelldorado
Try to Win at Blackjack
4h
175, 45
$ Casino
Drink and Babysit
4h
175, 45
The Boiled Potato
Attend Parenting Seminars
4h
260, 70
Universal Panacea
Observe Sins
4h
175, 45
Dance the Señor Burns
8h
420, 105
Chez Guevara
Carve Some More Commandments
8h
275, 70
Attempt to Part Springfield Lake
12h
420, 100
Springfield Lake or
Catfish Lake or
Dinosaur Lake or
Exotic Pond or
Ancient Ornamental Pond or
Screamapillar Pond or
Valentine's Pond or
Easter Pond or
Oasis or
Minnow Pond or
Brown House
Shop for New Sandals
24h
600, 160
Victor's Secret or
Gold Navy or
The Vast Waistband or
Abercrombie & Rich or
Brown House
Appearances
References
External links