Itchy
Wikisimpsons - The Simpsons Wiki
Itchy the Mouse, Sr.
Character Information

Itchy the Mouse, Sr. is a cartoon mouse from Itchy & Scratchy. Itchy is depicted as a cruel psychopath whose usual victim is his friend, Scratchy the cat. He almost always succeeds in his attacks against Scratchs, and typically ends up killing him. There is only one known episode where Scratchy wins and Itchy is killed.
History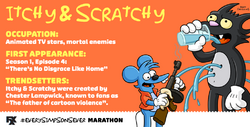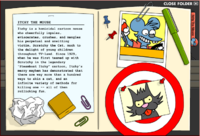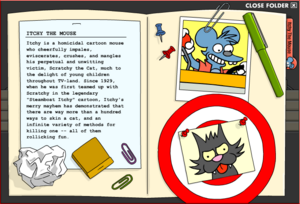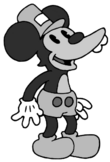 Itchy first appeared in the old episode "Itchy the Lucky Mouse in Manhattan Madness", in which only Itchy appears, without Scratchy, and Itchy kills an Irish man and Teddy Roosevelt. This was the very first of many episodes where he would appear.[1]
Itchy & Scratchy Land is an Itchy and Scratchy theme park. It has parades with robots resembling Itchy and Scratchy which are supposed to be inoffensive and only attack themselves. While on vacation, the Simpsons were attacked by a group of robots, until they used camera flashes to short circuit them (the reason flash snaps are not allowed).[2]
He was in the audience for a show Mr. Burns put on as a child and laughed at Burns when his pants fell down.[3]
Non-canon
| | |
| --- | --- |
| | The contents of this article or section are considered to be non-canon and therefore may not have actually happened or existed. |
The Simpsons: Tapped Out
This section is transcluded from The Simpsons: Tapped Out characters/Krustyland Mascots. To edit it, please edit the transcluded page.
Itchy Mascot
Image
Cost
Unlock method
Unlock message
60
Krustyland
The Krustyest Place on Earth Pt. 9
Premium
Action
Smashes a Scratchy doll with a mace when tapped.
Itchy Balloon
Itchy Balloon
Image
Cost
Sell price
Bonus
Conformity increase
Availability
Dimensions - W x D
Thanksgiving 2013: 30
Thanksgiving 2012: 40
?%
Premium
Thanksgiving 2012
Thanksgiving 2013
4 x 4
Behind the Laughter
Appearances
For a full list of both Itchy and Scratchy appearances, see The Itchy & Scratchy Show.
References
| | |
| --- | --- |
| | Wikisimpsons has a collection of images related to Itchy. |
Factfiles from Simpsons World the Ultimate Episode Guide: Seasons 1-20
Season 14
Rock Stars • Audrey McConnell, Third Grade Teacher • Dr. Velimirovic, Plastic Surgeon • Mitch Hartwell, the Reality Channel Producer • Junior (AKA Frank Grimes, Jr.) • Teacher of the Year Award Nominating Committee • Dexter Colt, Private Eye • The Mugger • Larry H. Lawyer, Jr. • Baby Stink-Breath • Booberella • Sara Sloane, Hollywood Movie Star • Cookie Kwan, Red Coat Realtor • Stark Richdale • Declan Desmond • Julio and Grady • Luke Stetson, Junior Wrangler • Suds McDuff, Spokesdog/Mascot for Duff Beer • Marriage Counselor • Jim Proudfoot • Don Castellaneta
<!–-INFOLINKS_OFF-–>
---